We would like to introduce you to Nammco's Drag finishing scraper line. This tool was designed for the primary purpose of high speed finishing and maintenance of precision leveled farm ground however it has recently been recognized as a very efficient tool in the construction and mining trades for the purpose of knock down, finish work, job site haul road maintenance, building pads, ball fields , and other applications, especially when used in conjunction with GPS or Laser accessories. It is less costly per foot or yard and more maneuverable than a motor grader. These scrapers are available from 10' to 24' widths with heaped capacities ranging from 9 to 24 cubic yards. The weight per foot of cut ranges from 400# to 800# per foot.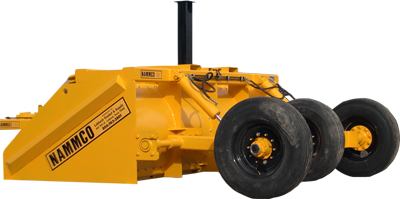 The extra heavy weight of this scraper is a major factor in the performance and ability of the blade to stay in the ground cutting with no duck walking or chatter of the box at higher speeds. All models have a center divider wall to to eliminate the shifting of soil in turns. The moldboard is rolled and as an option lined with UHMW polyethylene to prevent soil from sticking in wet conditions. The poly liner also serves as a wear protector for the steel moldboard. The poly lined moldboard has a lower coefficient of friction than the typical steel moldboard therefore requiring less horsepower when in operation. The tool is carried on two walking tandem axles with 4- 10 bolt oil bath truck hubs, rims and tires. This feature also reduces chatter and bouncing at higher speeds. There is a 3' rock shaft spanning the full width of the back of the box that is split and reflanged together.


These flanges can be disengaged in order to make the two hydraulic cylinders independent of each other. With the hydraulic cylinders extended there is a full 18' of dumping clearance. All bearings with the exception of the wheel bearings are self lubricating. There are no grease zerk's on the tool. There is no bracing on the interior of the box to interfere with the flow and rolling of the soil. All bracing is on the outside of the box. The tongue is easily folded by one man to allow for a transport width of app. 8'. The horsepower requirements for the various widths range from 175HP to 350HP. Nammco's Heavy Duty Scraper is the perfect piece of equipment for those those heavy duty jobs.

Most of our customers say their purchase of the NAMMCO SCRAPER was one of their best equipment investments.

Laser Finishing Scrapers
Available in 10' - 12' - 14' - 16' - 18' - 20' - 24' models - all with center divide wall to eliminate shifting of soils in turns. Heaped capacity ranges up to to yards.
Moldboard is rolled to enable more efficient rolling of soil and is optionally lined with poly to prevent soil from sticking in wet conditions
Two walking tandem axles on truck trailer or Ag hubs. spindles & tires
Full 18' of dumping clearance.
All bracing is on the outside of box to eliminate interference with soil flow.
Folding tongue for easy transport on trailer.
Fine turn adjustment feature of leveling from side to side.
Low maintenance with self-lubricating bearings - no grease zerk's
Horsepower rating - 175hp to 300hp.
Eliminates Graders . . . The Perfect Knock Down & Finish Tool
Available in 12',14', 16', 20' & 24' Models